---
Posted: Dec 19, 2019

Have you ever searched for something on Google and come across a result that looks like this?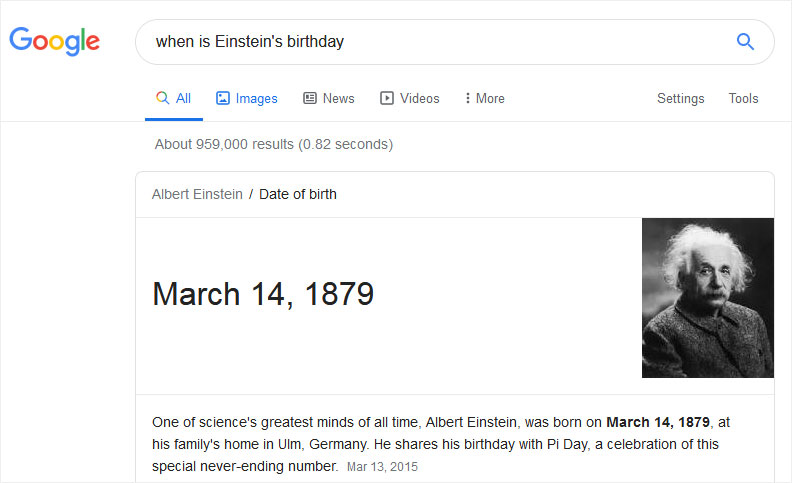 This is called a rich snippet, or a rich result. It definitely catches your attention and it shows up at the top of the search results page with a picture. You can also get rich snippets to show aggregated reviews, your business phone number, hours of operation, upcoming events, product information, prices, and much more.
So, how do you get the search results for your website to look like this? The answer: schema markup.
What Is Schema Markup?
Schema markup, also known as schema.org vocabulary, is structured data that tells search engines what to do with the information on your website. It uses a unique vocabulary in microdata format, so you can add your code to the HTML of your website. This gives you more control over how your business website will be displayed on search results pages. In a way, it's like your virtual business card.
Schema markup itself was designed to give users a better experience, and it is recognized by Google, Yahoo, Bing, and Yandex, which accounts for nearly all searches made on the internet.
Why is Schema Markup Important for SEO?
Schema markup puts you ahead of your competitors in so many ways. First of all, websites that have schema markup implementation rank an average of four positions higher than websites that don't.
Rich snippets, like the example at the top of this article, have a higher CTR (click-through rate) because they stand out more on search results page. When customers search for products and services, even the best businesses often get hidden on the search results page among all the other links. When your result is closer to the top and includes a picture, additional information, it is much more likely to grab the attention of users and get them to click on your website.
Schema itself was created to help searchers get more relevant and richer results. The more you mark up, the more that search engines have to work with. This can help increase your online visibility.
Benefits of Schema Markup
According to Schema App, using schema markup gave businesses 35% more impressions and 26% more clicks. It also helps ensure that those clicks are going to be more relevant because when your data is marked up, search engines will be able to use it in a more relevant way.
Schema also allows for content to be more interactive. For example, your videos can be played right on the search results page. Your photos can be displayed as well. Viewers can get a preview of your blog post or article, which will encourage them to read further on.
Overall, schema is a great way to improve your content strategy and take control of the way your website displays on search engines.
Schema Markup and Voice Search
Schema markup also ensures that your website will show up in voice search results. Over half of all searches will be conducted by voice search in 2020. Voice assistant and voice search engines such as Siri, Google Assistant, and Amazon Alexa use speakable structured data to answer users' questions. You need to use mark up the content on your web pages so that voice assistants can read it out loud.
What Type of Markup Is Available?
Schema markup types include, but are not limited to:
Reviews and ratings
Events
Creative works
People
Products
Restaurants
Articles
The type of markup that you do will depend on the content that is on your web pages.
How to Implement Schema Markup
To start implementing schema markup for your website, you will want to visit schema.org . This will show you the different codes and properties that you can implement on your site. Generally speaking, the more you markup, the better off your site will be.
Once you learn the different item tags, item scopes, and properties to use to mark up your website, you can test it on Google's structured data markup helper .
If you don't have a lot of programming experience, it is still absolutely worth it to invest in schema markup. Octadyne Systems can help you implement structured schema data onto your website today. Call us at 515-232-2024 or send us a message by clicking on the button below!